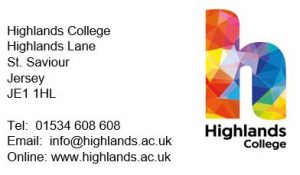 Dear Parent/Guardian,
It seems incredible that we are already in the last half term of the calendar year, although a great deal has happened to celebrate. Since I last wrote to you, we have had a group of three students selected for a bursary for young women in STEM subjects (Science, Technology, Engineering and Maths). These students were selected by a panel following an application process. They made the job very difficult for the judges. In the end Amy Hebert (Building Trades); Ella Mackenzie (Games Design) and Rubie Le Blond (Games Design) were selected. Many thanks to the International Soroptimists Association for their generosity in devising this initiative.
We also held our Construction Awards on October 23rd, an annual event where we recognise and celebrate the talent of rising stars who are undertaking trade apprenticeships here at the college; these included Hannah Willcocks, winner of the Connor Le Geyt Memorial Award, and Diogo Pereira, who achieved the Malcolm Simms Memorial Shield for Apprentice of the Year.
At the time of writing, we have had significantly less disruption for our full-time students than many of the other Sixth Forms. Some of this is simply luck, but it is also in part down to the behaviour of our students and our current timetabling structure. We are impressed with their maturity in abiding by the facemask guidelines. Please support them to make sure they have suitable facemasks to wear in public areas of the College.
Nonetheless, we cannot be complacent.
A message I would like to send to you, is that it is essential that we have accurate contact information for you on our system. We are still missing a number of mobile phone numbers and email addresses for parents and guardians. In the event of any departmental closures for cleaning, and for possible contact tracing, it is very important that we have these. If you think these may be missing from our records, please contact Highlands Main Reception on 608608 or send your contact details by email to info@highlands.ac.uk with the subject line UPDATED CONTACT DETAILS.
Leaders and managers in the College have been spending time reviewing feedback on the timetable structure and trying to balance this with ensuring safety. Tutors were asked to pass on any feedback that you gave on the timetable during the recent Progress Evenings, which was found mainly to relate to the timing of some maths classes. We are looking to see if any small changes can be made in these areas without impacting on the experience for all students or increasing risk. If you have further feedback on the timetable and/or online learning experience, please email info@highlands.ac.uk and mark the subject line TIMETABLE FEEDBACK.
Many thanks for your ongoing support of the College.
Kind regards; #StaySafe.
Dreena Collins
Assistant Principal, Students and Core Learning