Students from Highlands College are planning to coordinate an English and Well Being programme for children.
In association with Jersey Overseas Aid and the Gurkha Welfare Trust Jersey in Nepal, on March 2021, 15+ students and 4 members of staff will embark on the project in the Lamjung region of Nepal.
This is the third year Highlands has organised a trip to Nepal, after an earthquake devastated the country in 2015. The Shree Guanda School has been rebuilt so the project's focus is to ensure the school is sustainable and has adequate resources for the children.
The Highland's students will be responsible for planning and delivering English lessons, with the support of staff.  Implementing an English and Well Being programme which will help local school children and improve our students understanding of the wider world
Each student who participates will be expected to part fund their portion of the trips cost.
Students will be enrolled on a TEFL course to be completed in their own time. We believe this qualification is a valuable bolt-on to the qualifications they are currently taking in college.
Benefits of studying the TEFL:
Recognised and respected by employers all over the world
Looks good on your UCAS application
Provides access to teaching jobs abroad
You can earn money and travel
You can make a difference to people's live
The skills the students will gain through the experience will benefit themselves and the Jersey community going forward.
Highlands College students sports development programme in Nepal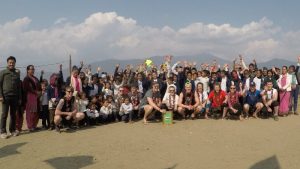 For full story please read here     Highlands students visit Nepal
UNICEF UK Rights Respecting Schools
We are delighted to announce that Highlands College has successfully achieved the first stage of the UNICEF UK Rights Respecting Schools Award and has been certified as Bronze: Rights Committed.
Our next step is to implement our Action Plan for Silver and to continue to embed the principles of equality, dignity, respect, non-discrimination and participation in all that we do.