Highlands College excels in the Ashburton Schools Investment Challenge
The Ashburton Schools Investment Challenge is open to Jersey Sixth Form students from Victoria College, Jersey College for Girls, Highlands College, Hautlieu, Beaulieu Convent School and De La Salle College, and is designed to help scholars learn the art of investing. The challenge ran over six months (January to June 2023) and saw 23 teams from across the six schools and colleges enter.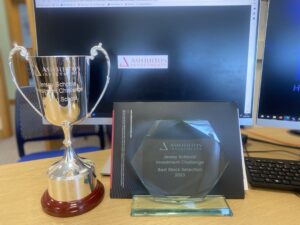 In December, Ashburton delivered an information session to students about how to best create stock portfolios which prompted three teams of Level 3, Year 1 Business students from Highlands College to enter the competition. Students used their free time at home or over lunch to research and create fictitious portfolios of five stocks or equities to the value of £100,000, which the team at Ashburton then tracked for six months.
Our students did brilliantly well with all three teams finishing in the top 10.
Highlands College was awarded the trophy for best-performing school, and also the award for the best-performing portfolio, with one of our student teams selecting a stock that increased in value by over 175% in the 6-month period!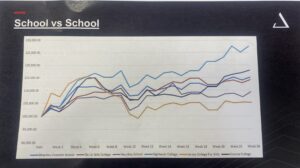 Congratulations to all the students who took part from Highlands College: Micaela Fernandes, Lea Le Bailly, Chloe Perestrelo, Kelly Teixiera, Ellie Clegg, Oliwia Nikodemska, Jasmine Vieira, Jessica Fortes, Gabriel Cruz, Joel Vieira and Reef Webster.