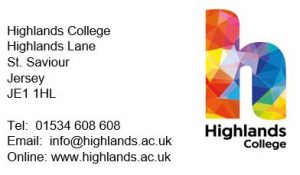 Dear parents and guardians,
Young Person Hospitalised due to Street Drug
We have received information that there is a drug, called Xanax (or similar 'xanna' etc), that is dangerous and has led to a young person being hospitalised. We know that this drug can come as tablet or capsule but also in other forms.
If any young person wants to talk about this, then please do speak to a member of staff that you trust or The Student Life Team.  To look after others, you can also talk anonymously to Crime Stoppers on 0800 555 111.
Our priority is always to keep our students safe, and we continue to encourage you all to be open and willing to ask for help and support, as well as building in drugs education into our 'core' programme for students.
Furthermore, we have a positive relationship with the States of Jersey Police and work with them closely to keep our community safe.
You can find out information about drugs on: https://www.talktofrank.com/
Kind Regards,
Jo Terry-Marchant
Principal