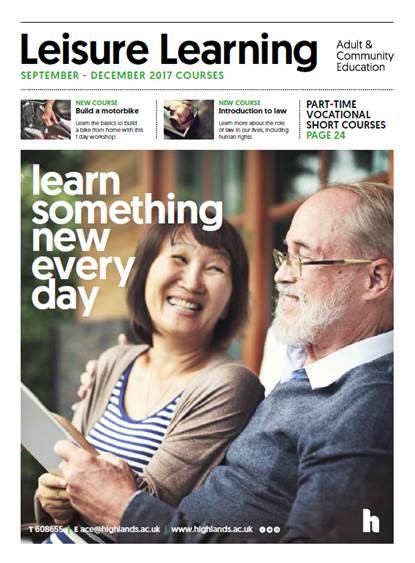 Highlands Adult & Community Education are pleased to launch over 140 Leisure Learning courses for the Autumn Term on Thursday 29th June!
Our team have been busy working with our wonderfully talented tutors to bring you over 140 courses, including more than 20 new ones for our most popular term for leisure learning. Whether you're new to Leisure Learning or a seasoned learner at Highlands, you'll be sure to find something inspiring, new and interesting to explore.
Our selection has never been so diverse and we're delighted to offer you a variety of learning courses at affordable prices, over a range of times and locations throughout the coming season.
WHERE CAN I VIEW THE COURSES?
1. The new pull-out supplement will be available in the Jersey Evening Post on Thursday 29th June – your guide to peruse and keep all summer long. A great way to get the whole family learning!  
2. View the supplement and individual course listings on our website from Thursday 29th June.
3. Missed the JEP? Pick one up from any of the following outlets: Highlands College Reception, Parish Halls, Jersey Library, Social Security, various public places and cafes.
Here's a sneak peak of what you can expect:
Build A Motorbike In A Day
Whether you're a guy or a girl, channel your inner Michael Carrington with this exclusive opportunity to learn how to select a donor bike, rebuild and fit an engine, tune it and give it a basic service at home, plus everything in between.
1-Day workshops: Saturday 22nd July OR Saturday 23rd September, 9am-5pm, £330.

Shibashi Qigong
Need some Zen in your day? Shibashi Qigong is an effective, easy to learn routine to improve health and well-being based on Yang-style Tai Chi.  You'll practice and learn simple routines to perfect at your own pace.
Starts Tuesday 12th Sept, 7pm-8.30pm for 12 weeks. £115.
Grand Designs Planning a Small Building Extension
Whether carrying out internal improvements or building an extension, this course will give you an insight into the various  stages and processes involved. Suitable for beginners who will be taken through a scenario based on completion of the project.
1-Day workshops: Tuesday 12th September OR Thursday 2nd November,  09.30 – 11.30, £85.
Popular and new courses tend to sell out very quickly so get in early to avoid disappointment!
Our friendly team, Heidi, Kim and Glenda are here to advise you, answer questions and enrol you on your chosen course.

Contact us
T 608655 | E ace@highlands.ac.uk | W www.highlands.ac.uk